UK's Critical Minerals Strategy launched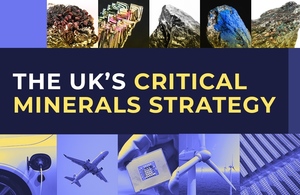 The UK's first ever 'Critical Minerals Strategy' has been launched to bolster the resilience of supply chains and seize on the economic opportunities of growing industries, such as electric vehicle manufacturing and offshore wind.
As set out in the new 'Critical Minerals Strategy', minerals such as graphite, lithium and silicon are vital to the economy, as they are key components of products ranging from laptops to aircraft. But supply chains are complex and markets are volatile, with most critical minerals sourced from just a handful of countries, particularly China. This leaves UK jobs and industries reliant on minerals vulnerable to market shocks and geopolitical events. Ensuring UK firms have a resilient and sustainable access to critical minerals will be vital for the growth of future industries such as electric vehicle manufacturing, which will support jobs across the UK for decades to come, and national security.